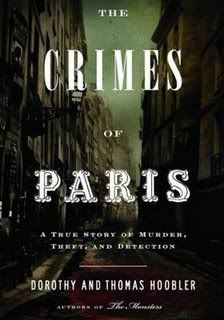 Author:
Dorothy Hoobler and Thomas Hoobler
ISBN:
9780316017909
Pages:
368
Published by:
Little, Brown and Company (April, 2009)
Genre(s):
Non-Fiction, Art History

Grade:
A-

Challenge(s):
100+ Reading Challenge
-
Read 'n Review '09
-
2009 Pub Challenge
-
Spring Reading Thing 2009
-
Well-Seasoned Reader Challenge
Let me start off by saying this: Dorothy and Thomas Hoobler have written a lot of books. Seriously, check out
this list
.
If you read my Tuesday posts then you have been teased not
once
, but
twice
. And I'll let you know now, the reason that the man (or men) were hiding in the storage closet in the
Louvre
was to steal the
Mona Lisa
. According to the authors, there were many small rooms and hidden alcoves like this in the 700 year old building; museum officials don't even know just how many there are.
One of the earlier suspects of the theft was Pablo Picasso, yes
THAT
Picasso. Nineteen year old Pablo Ruiz had arrived in Paris in 1900 to see (and exhibit a painting) at the Paris Exposition Universelle. Though he left Paris after this, he would return as Pablo Picasso (his mother's family name).
There are many other crimes discussed and dissected in THE CRIMES OF PARIS; burglaries, bank robberies, murders, even the first use of a getaway car (one of the bank robberies). There is explanations of the system known as bertillonage, which was widely used in France before the discovery that fingerprints were a much better system of identification.
I do not normally read non-fiction (with the exception of biographies and memoirs), but over-ruled my initial instinct about THE CRIMES OF PARIS and requested a copy. I'm really glad I did. There were times while reading THE CRIMES OF PARIS that I actually forgot that I was reading a non-fiction book. There writing is easy to understand and the authors do not bog you down with long, dry explanations.
I'm definitely going to keep this ARC and reread it at a later time; it's that good! I'm also going to check my library for some of their other books, specifically THE IRISH AMERICAN FAMILY ALBUM and THE GERMAN AMERICAN FAMILY ALBUM.
Buy THE CRIMES OF PARIS @ a bookstore near you!
Buy THE CRIMES OF PARIS on Amazon.
random.org
to select the winners. Per publisher's rules this giveaway is open to residents of the US and Canada only. No PO Boxes.
GOOD LUCK!